High Energy Gamma-Ray Emitting Active Galaxies Nuclei
E > 100 MeV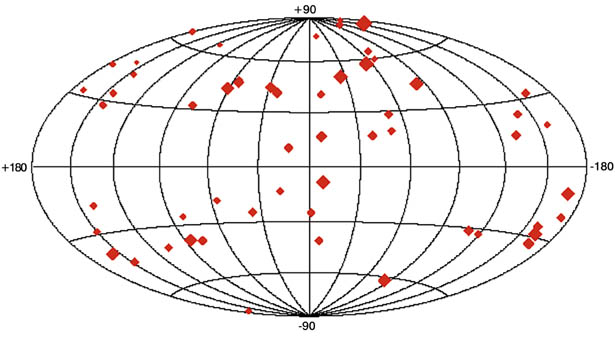 CGRO EGRET Observations
How Do Cosmic Accelerators Work?
The EGRET instrument on CGRO has detected high-energy gamma-rays originating from sources that almost certainly involve particles accelerated to speeds very near that of light. Perhaps the most mysterious of these accelerators are a class of active galaxies termed "blazars". These objects, which emit narrow, intense jets of gamma-rays, are among the most powerful and least understood objects in the Universe.
The initial process of particle acceleration is presumed to occur in the vicinity of a super-massive black hole at the center of the blazar; however, we know very little about the origin of the jet. Yet it is precisely the region where the most important physics occurs: the formation of a collimated jet of charged particles, the flow of these particle in a narrow cone, and the acceleration of the flow to relativistic velocities.
Observations of the high-energy gamma-ray emission from blazars, which can vary on time scales as short as days and can exceed the luminosity at other wavebands (radio, optical, UV, and X-ray) by as much as two orders of magnitude, provide a powerful means to study the rapidly fluctuating particle injection and acceleration processes.
A future mission, with a high-energy gamma-ray telescope having an improvement in sensitivity of a factor of 10 over EGRET should see all the known blazars and allow statistical studies relating overall properties of blazars to the characteristics of the gamma-ray emission.
This future gamma-ray mission, coupled with simultaneous multiwaveband monitoring of blazars, will result in exciting inferences regarding relativistic jets and energetic particle acceleration. Such observations will lead to the development of sophisticated models of the jets in the very region where they are focused and accelerated to relativistic flow velocities. High spatial resolution measurements in the radio and X-ray bands would be a valuable complement in this regard.



Missions: ALFA, ARISE, AXAF, GLAST, HXT, NGXO