---
GSO Gain History File
For Version 1.X Processed Data Only
Updated 2007 May 23
---
GSO users should reprocess their data with the gain history files in the CALDB, since the versions used by pipeline processing is automatically created in the pipeline and are not suitable for scientific analysis. The degree of this problem is illustrated by the example of GSO spectra with the different gain history files below.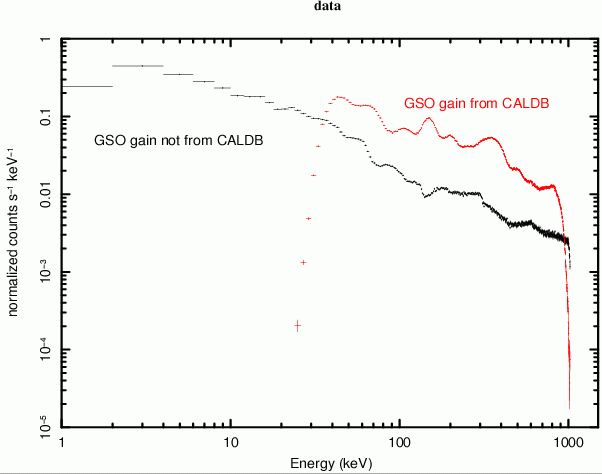 In fact, if the cleaned GSO event files are missing in the hxd/event_cl subdirectory, a problem in the automatically created GSO gain history file is the likely cause. In such a case, users should reprocess the HXD data using the gain history files in the CALDB. Reprocessing steps are detailed in the HXD chapter of the ABC guide.
The current GSO gain history file in the CALDB, ae_hxd_gsoghf_20070429.fits, covers the period 2005 Aug 15 - 2007 Apr 22. This file will not work for more recent observations. We will regularly update this page whenever a new GSO gain history file becomes available in the CALDB.
---
If you have any questions concerning
Suzaku
, visit the
Feedback form
.
This file was last modified on Friday, 11-Jan-2008 20:31:21 EST