NICER / ISS Science Nugget
for March 18, 2021
---
NICER Captures the Formation of an X-ray "Corona" around a Supermassive Black Hole after it Shreds a Star
Active Galactic Nuclei (AGN) are powered by black holes millions to billions of times more massive than our Sun. A significant fraction of the X-rays emitted by AGN arises from visible/UV photons that are energized by a compact, hot, and tenuous plasma known as the corona. The origin of a corona, which acts as an intermediary between accretion and ejection in the flows of matter nearest the black hole, is unknown. Most actively accreting supermassive black holes-i.e., those in AGN-are not ideal systems for studying the formation of coronae because they evolve on timescales of thousands to hundreds of thousands of years. However, dedicated X-ray monitoring of dormant supermassive black holes soon after they disrupt a passing star provides a valuable opportunity.
On 18 September 2018, ground-based telescopes identified a candidate tidal disruption of a star; the observed transient flare was dubbed AT2018fyk. On 27 September 2018, NICER responded to a target of opportunity (ToO) request to search for X-ray emission in the aftermath of this stellar disruption. Encouraged by an initial detection, NICER launched a major monitoring campaign, and continued to observe AT2018fyk with a cadence of once every few days for another 473 days-until 13 January 2020, at which point the source faded below NICER's sensitivity.
NICER X-ray spectra during the first month following the disruption displayed only a single cool (~2.3 million Kelvin) thermal component. However, after about a month a second, non-thermal component began to emerge; see the accompanying figure. Over the next 300 days, this power-law component gradually increased in strength and eventually dominated the overall X-ray emission. Supported by additional evidence from other NASA and ESA space telescopes (on the XMM-Newton and Neil Gehrels Swift observatories), NICER scientists and collaborators have argued that this represents the formation of a corona around a previously inactive supermassive black hole. The resulting paper, by Thomas Wevers et al. and accepted this week for publication in The Astrophysical Journal, has shown for the first time that stellar tidal disruptions can be used to study the origins of the mysterious powerhouses known as black-hole coronae.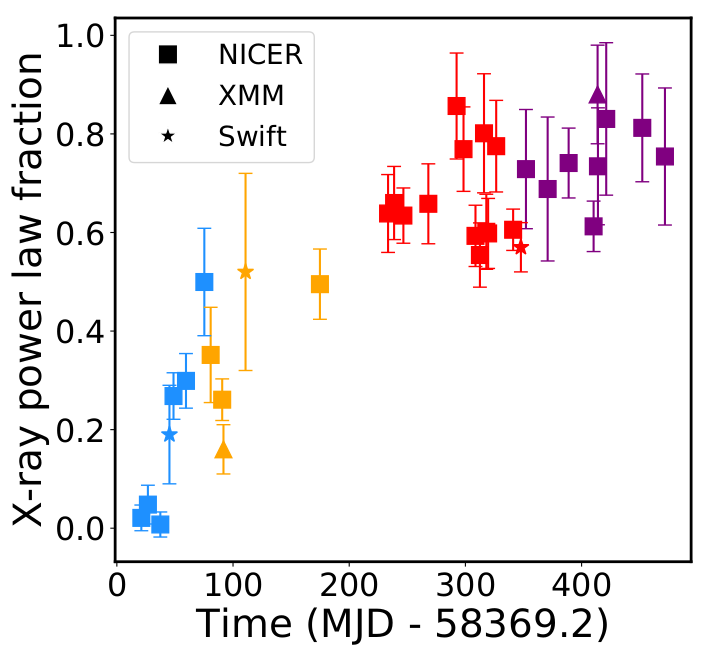 Figure: The power-law (or corona) fraction of the X-ray spectrum vs. time, for the transient AT2018fyk. The different colors represent the various phases of this evolution: blue is the weak corona state, while orange and red show the phases where the corona is actively forming. The magenta phase indicates where the corona is completely formed.
<< Previous
Main Index
Next >>
NICER
Science Nuggets
Listed by year:
Listed by topic: