NICER / ISS Science Nugget
for January 6, 2022
---
NICER Detects Neutral or Nearly Neutral Oxygen Line From Earth's Atmosphere
On December 21-23, 2021, NICER observed the possible Tidal Disruption Event (TDE) called AT2021SDU. A TDE occurs when an entire star is destroyed after traveling to closely to a black hole. At the time NICER observed this event, it was not clear whether X-rays would be detected.
NICER detected a bright line in the spectrum (see figure) that is not expected from TDEs. A deeper investigation revealed that NICER was looking at AT2021SDU while the northern polar cusp was in between the ISS and the celestial target. The polar cusp is a region near the magnetic poles of the Earth where the magnetic field lines plunge toward the surface exposing parts of the Earth's atmosphere to solar wind plasma from the Sun. The bright line seen in the NICER data is consistent with neutral or nearly neutral oxygen. Later observations on December 29-30, 2021 did not detect the line which is consistent with the different viewing conditions. NICER will begin a series of observations of northern cusp region in collaboration with heliophysicists - including joint observations with the DXL sounding rocket being launch in the coming days out of NASA's Wallops Flight Facility.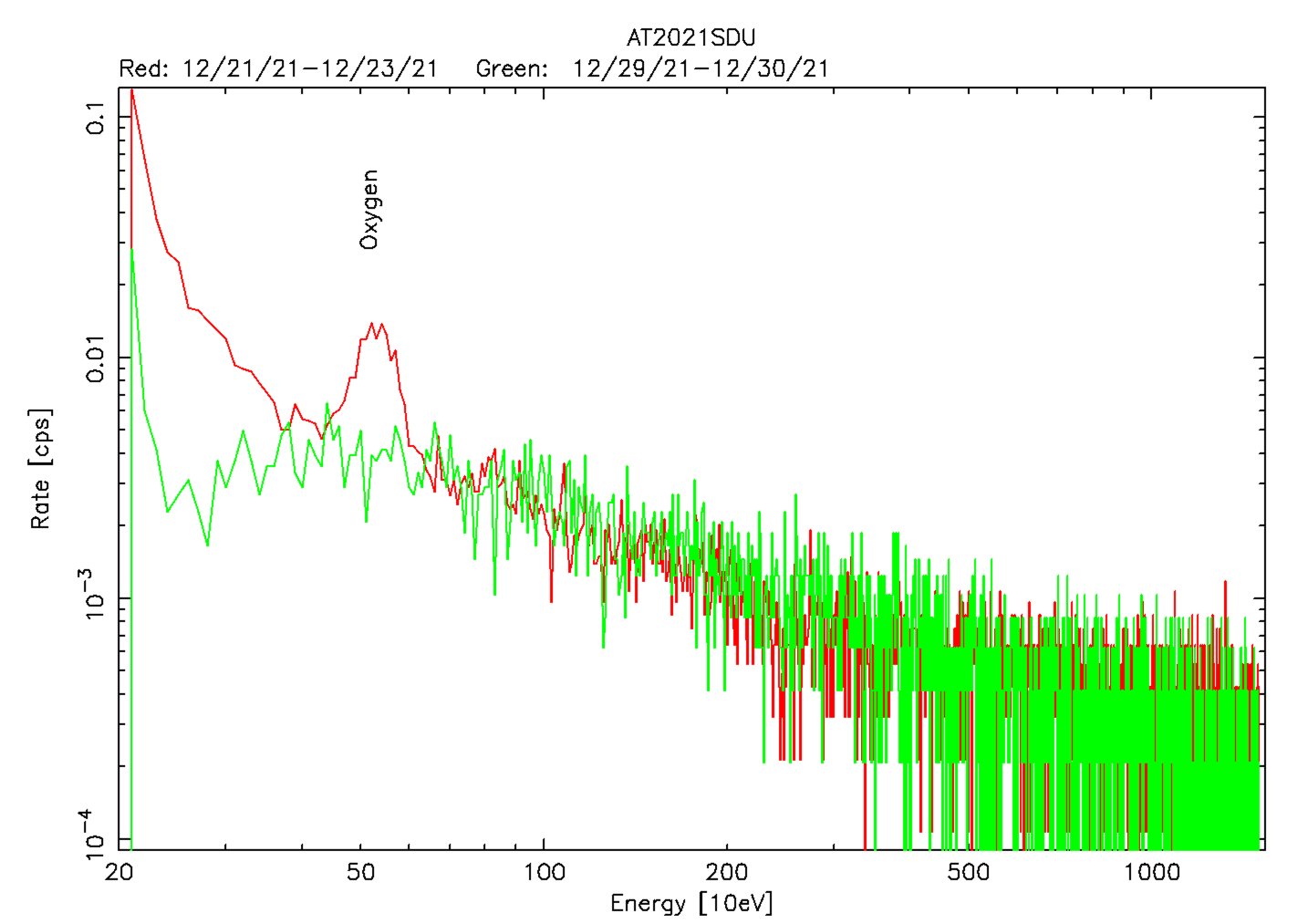 Figure: The NICER X-ray spectrum from observations of AT2021SDU taken during December 21-23, 2021 (red) and December 29-30, 2021 (green). The earlier observation clearly shows a line consistent with neutral or nearly neutral oxygen.
<< Previous
Main Index
Next >>
NICER
Science Nuggets
Listed by year:
Listed by topic: