NICER / ISS Science Nugget
for April 21, 2022
---
An X-ray outburst from a radio-loud magnetar after 13 years of quiescence
Magnetars are a sub-population of isolated neutron stars powered by the decay of their immense magnetic fields (B > 10
14
Gauss), which exceeds by a factor >100 the field strength of all other types of neutron stars. This reservoir of magnetic energy can stress the neutron star's solid surface to its breaking limit, at which point the energy is released in the form of X-ray radiation from the surface and magnetosphere, and, in a few cases, in the form of radio waves. These periods of activity are known as magnetar outbursts. These outbursts last anywhere from weeks to years and their detailed study offers a glimpse at the physics governing magnetic field decay in magnetars as well as the properties of their poorly understood crusts and magnetospheres.
Between April 3 and April 7, a few millisecond-duration gamma-ray flashes were detected by the wide-field-of-view instruments on NASA's Fermi (Gamma-ray Burst Monitor) and Swift (Burst Alert Telescope) observatories from the direction of the radio-emitting magnetar 1E 1547.0-0548, signaling the start of a new outburst, its first since 2009. NICER observed 1E 1547.0-0548 between April 12th and April 18th on several occasions. The magnetar is clearly detected, and the 1-5 keV X-rays from the source are pulsating (see accompanying figure) at the known rotational frequency of 0.478 Hz, while slowing down at a rate of -5.0e-12 Hz/s; these timing properties are consistent with the magnetar's long-term rotation as measured in the radio band. The X-ray count rate is approximately a factor of 2 higher than what has been observed in archival NICER data, confirming the new outburst. In the following week, NICER will coordinate with NASA's NuSTAR high-energy X-ray telescope to tackle the full spectrum and pulse shape of the source in a much broader range of photon energies, from 1 to 79 keV, to home in on the exact properties of this outburst.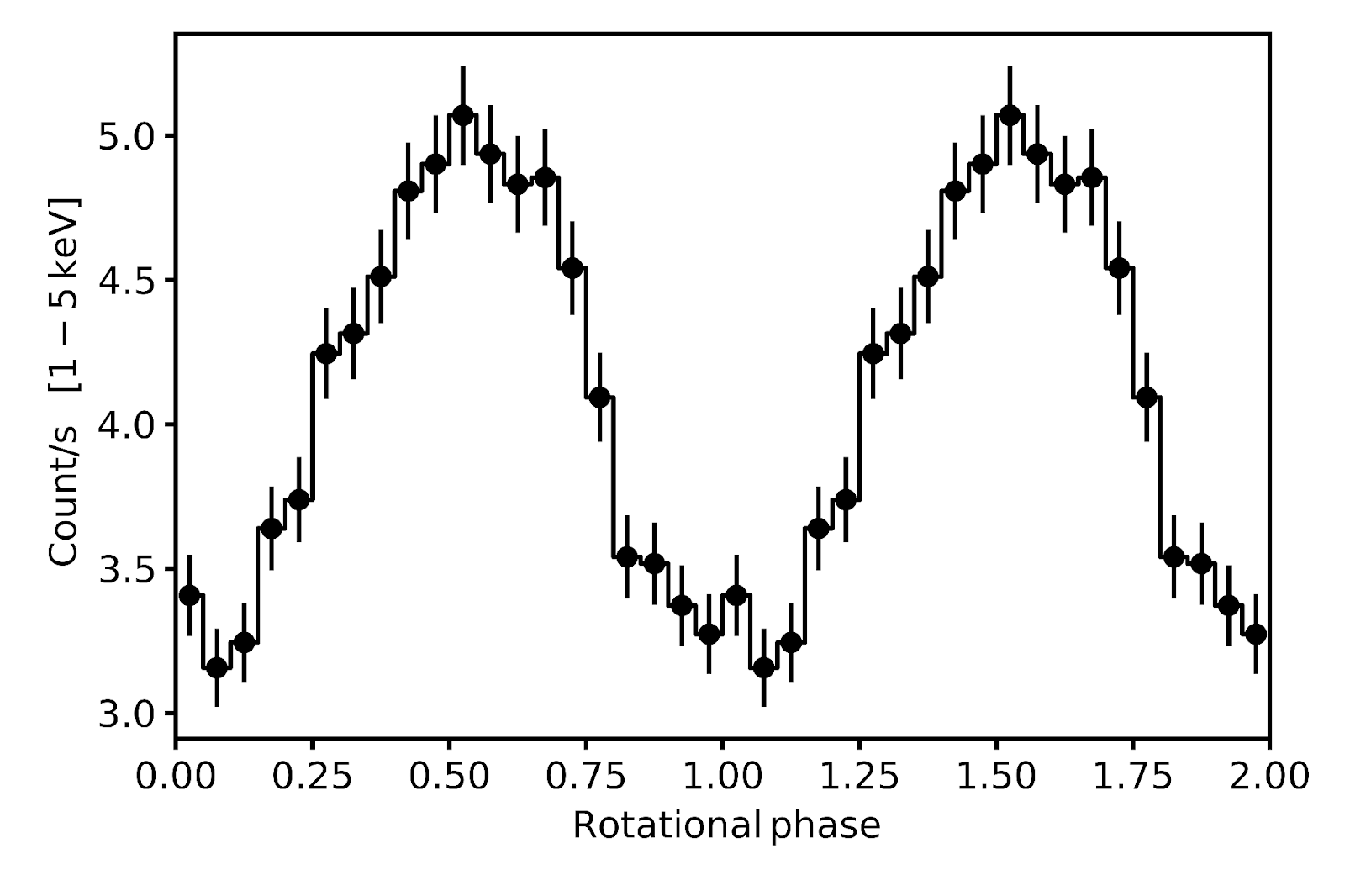 Figure: NICER X-ray count rate as a function of rotation phase for the magnetar 1E 1547.0-0548, in the 1-5 keV photon energy band. Two rotation cycles are shown (same data plotted twice) for clarity.
<< Previous
Main Index
NICER
Science Nuggets
Listed by year:
Listed by topic: