NICER / ISS Science Nugget
for September 22, 2022
---
Record Response to NICER's 5th Guest Observer Call for Proposals
By the 14 September submission deadline, NICER received 136 proposals for its 5th annual Guest Observer (GO) announcement of opportunity. This represents a 27% increase over last year and a 38% increase over the average response from the prior four years, demonstrating high demand for NICER observations from the astronomical community. The total science data collection time requested through these proposals was 2.3x the amount allocated for this Cycle by the NICER project. The submitted proposals requested time to observe neutron stars, black holes, comets, non-compact stars, distant galaxies, and other objects. In this GO cycle, NICER offered new collaborations with NASA's Neil Gehrels Swift Observatory and the Transiting Exoplanet Survey Satellite (TESS), in which NICER GO proposers could request Swift time or high-cadence-time target windows with TESS to complement their NICER observations. Additionally, NICER has a long-running collaboration with NASA's NuSTAR mission in a similar arrangement for coordinated observations.
In early November, NICER will convene six peer-review panels (of six subject-matter-expert scientists each) to evaluate, in a dual-anonymous process, the proposals for scientific merit and technical feasibility and to make recommendations to NASA HQ for implementation of the Cycle 5 GO science program. Observations for Cycle 5 will begin on March 1, 2023.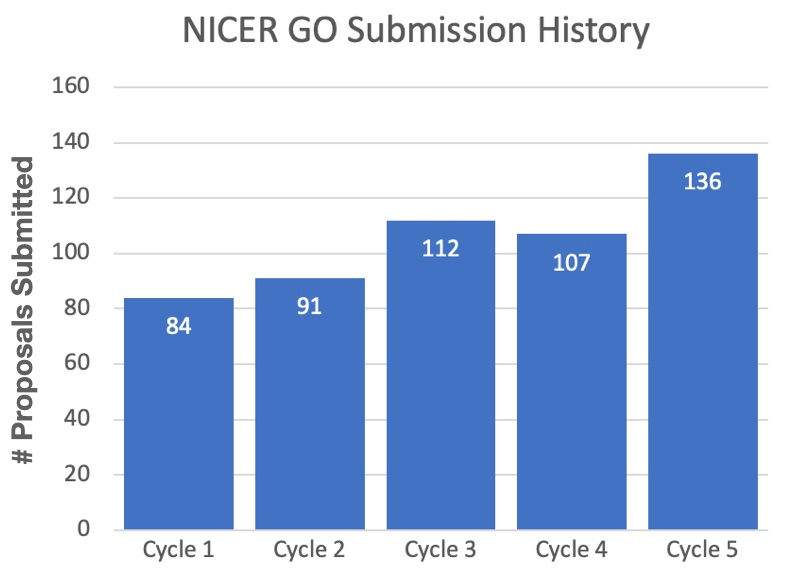 Figure: The number of proposals for targeted NICER science observations submitted in each Cycle since the start of NICER's Guest Observer program.
<< Previous
Main Index
Next >>
NICER
Science Nuggets
Listed by year:
Listed by topic: