NICER / ISS Science Nugget
for November 19, 2020
---
Unstable Burning
NICER observations of a recent outburst of the first accreting millisecond X-ray pulsar ever discovered, SAX J1808.4-3658 (J1808, for short), reveal evidence of a type of unstable nuclear burning not clearly seen before. This system consists of a neutron star, spinning at 401 revolutions per second, in a 2.1 hr binary orbit with a low-mass star. This companion feeds matter rich in light elements, hydrogen and helium, onto the neutron star surface, in a process called accretion. As the material piles onto the neutron star, it becomes heated and compressed and can eventually ignite in a nuclear chain reaction, producing an X-ray burst, a rapid increase in the X-ray brightness of the source.
NICER observed two types of X-ray bursts from J1808 with dramatically different brightness. In the figure below, the two bursts can be seen as sudden increases in the NICER X-ray count rate (near days 8.5 and 20 in the plot; note also that the vertical axis is logarithmic). The brighter of these two bursts is triggered by the fusion of helium nuclei into carbon and releases an enormous amount of energy in the process. This reaction is very sensitive to the temperature of the accreted fuel: as it heats up, the nuclear reactions speed up, dumping even more heat into the material, and leading to a nuclear runaway. Astronomers call this a "thermal instability," since it results in runaway burning of the helium to carbon. Another triggering process for X-ray bursts has been suggested by astrophysicists but not confidently seen before, and this is what the NICER observations appear to have found. Under certain conditions, particularly if the accreted material is cool enough, the fusion of hydrogen nuclei into helium can also produce a thermal instability. This is the process that appears to have triggered the first burst, at 8.5 days, seen by NICER. It is known from prior observations of J1808 that the neutron star cools dramatically when the source fades to X-ray quiescence, that is, stops accreting matter. The fact that this first, hydrogen-triggered burst occurs early in the new outburst is consistent with the neutron star still being cool enough for the hydrogen trigger to operate.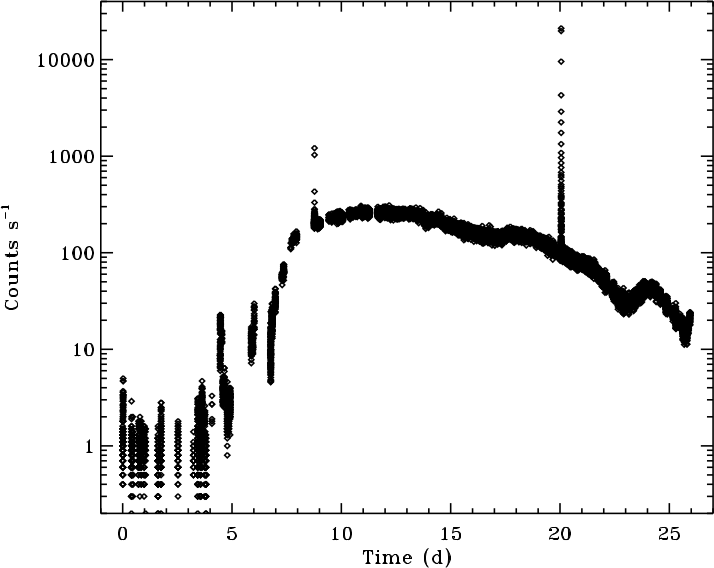 Figure: Evolution of the brightness, as measured in NICER X-ray counts per second, of the accreting millisecond pulsar system SAX J1808 during its month-long 2019 outburst. Two short-lived thermonuclear (so-called Type I) X-ray bursts are seen, during which the source brightens by 1-2 orders of magnitude.
<< Previous
Main Index
Next >>
NICER
Science Nuggets
Listed by year:
Listed by topic: