---
ASCA's Solid-state Imaging Spectrometers
---
The construction of ASCA's two Solid-state Imaging Spectrometers (SIS) was a joint effort of MIT, ISAS and Osaka University. Each SIS camera is based around four, 420x422 square pixel CCD chips, abutted side-by-side, front-side illuminated, operated in frame-store configuration.
The "vital statistics" of the SIS are as follows:
Energy Range: 0.4 keV to 10 keV keV
Energy Resolution: 2 percent at 5.9 keV
Field of View: 22 by 22 arcmin square
Effective area and energy resolution of SIS and GIS
---
Cross section of SIS (figure was taken from K.C.Gendreau's thesis).
---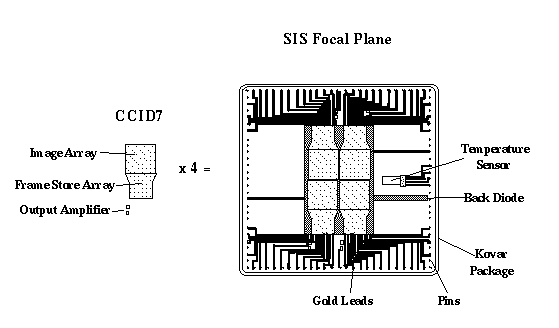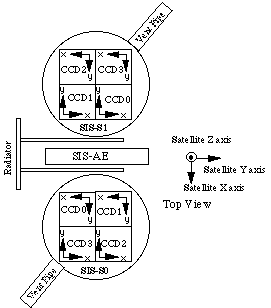 Left:Four individual CCDs are combined in a single package to make a single SIS focal plane (figure was taken from K.C.Gendreau's thesis). Right:Configuration of the two SIS on the ASCA focal plane.
---
More SIS Information
---
References:
Keith C. Gendreau's doctoral thesis (1995, MIT), "X-Ray CCD Calibration; X-Ray CCD Radiation Damage Evaluation and Modeling; Use of CCDs to Measure the Spectrum of the Cosmic X-Ray Backgrounds with ASCA"
---
---
If you have any questions concerning
ASCA
, visit our
Feedback form
.
This file was last modified on Tuesday, 19-Oct-2021 15:31:55 EDT